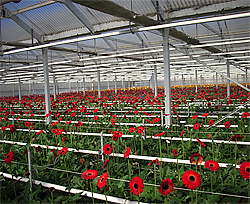 Our B-Fresh Carpinteria nurseries are operations that have been in business for over 46 years. We are bouquet makers and growers of cut flowers, including Gerberas, chrysanthemums, lilies, field flowers and greens. The nurseries consist of over 50 acres of greenhouse and field-grown product. Our greenhouses are built for the California climate and with the latest technology, much of it brought in from Holland, to make sure our flowers are grown in the best of environments. We are also keenly aware of the need for water conservation and so we apply the strictest standards for water recirculation. Our "bad" insects are preyed upon by our "good" insects which we introduce into the greenhouse on a monthly basis.
We have recently upgraded and enlarged our bouquet making facilities, making it even easier to design, assemble and pack your beautiful hand-tied bouquets.

More importantly, we and our 200 employees love what we do. Our family of employees is what makes our business possible and we are all very proud of what we accomplish together as a part of the B-Fresh Team!